PICKLEBALL

May 13, 14 and 15: 8:00 AM check in
Location: Mitchell Park- 600 East Meadow Drive Palo Alto
Event Fee: $5 each event, registration closes April 30th
Registration: http://www.pickleballtournaments.com/welcome.pl?tid=603
Steve Sutton -
Bay Area Senior Games Pickleball Tournament 2016
Age based tournament:
(50-54, 55-59, 60-64, 65-69, 70-74, 75-79, 80-84, 85-89)
You are qualified to play if you will be 50 on or before Dec 31, 2016
Friday, May 13 – Women's Doubles & Men's Singles
Saturday, May 14 – Men's Doubles & Women's Singles
Sunday, May 15 – Mixed Doubles
Monday, May 16 – Inclement weather day
Check in time for singles and doubles will be 8 am each day. Play will start at 8:30 am.
Format: Double Elimination with Main Draw – best of 3 games to 11, Back draw – one game to 15. The Tournament Director reserves the right to change format and/or combine events based on participation.
The Registration Fee: $55 per person and $5 per event!
Registration ends: April 30, 2016. Cancellation Deadline April 30, 2016. Sorry, no refunds after this deadline.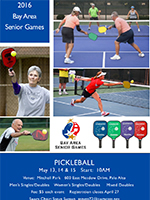 Participants are not confirmed in the tournament until they have registered (doubles partner must also have registered, signed online waiver and registration fees paid.)
Location: Mitchell Park Tennis Courts 600 E Meadow Drive, Palo Alto, CA 94309. We will be using eleven courts with portable nets. Two overflow courts are available if needed. Look for the tennis courts adjacent to the Magical Bridge Playground!
Questions? Contact Tournament Director: Steve Sutton @ 408-448-4555 cell
Email:
We will need lots of volunteers!! Please contact the tournament director directly if you would like to volunteer.
Refreshment such as bananas, oranges, food bars, and water will be provided on tournament days. Please bring your chairs. There are none at the venue.