RICK MILAM MEMORIAL TRACK & FIELD MEET

Encore Games Track & Field Fall Classic
Date/Time: Sunday, October 15, 2017, 8:00 AM
Location: College of San Mateo

1700 West Hillsdale Ave. San Mateo
Fees:
Athlete Registration Fee $60.00
(T&F Fees $6.00 per event)
Mail-In Registration: Encore Games Track & Field Fall Classic
2016 Grand Prix Awards
I would like to thank the USATF Pacific Association as they recently announced their 2016 Grand Prix Awards. I was honored to be mentioned in the same breath with two of my throwing compadres, 3 time Olympian Ed Burke & UC Berkeley all-time great Paul Rosati. As always, I am very thankful and grateful! After sitting out all of 2017 with various ailments, I am praying that God gives me the strength to compete in 2018!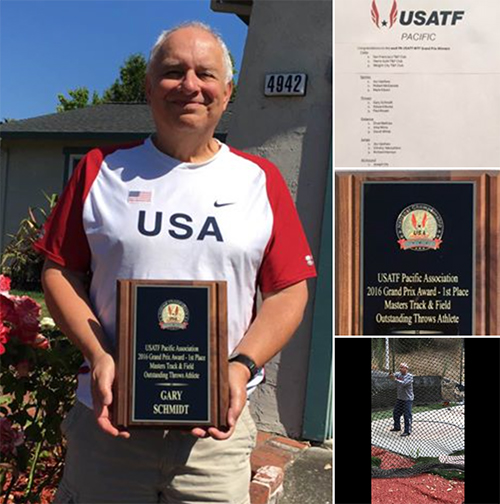 2017 Track & Field Photos
News
May 19, 2015 - Senior Games: Rick Milam Memorial Track and Field Meet honors longtime track official
May 13, 2015 - Why Older Runners Are Ultrarunners